Are you ready to be pass the NCLEX Exam?
In 1 day, I'll take you through the steps to get to the right NCLEX answer every time, decrease your test taking anxiety and increase your exam readiness to begin the start of your Nursing career
IS THIS YOU?
You're reading the textbook non-stop and still not comprehending the content
You feel like you're not retaining information after hours of studying
You are having trouble critically thinking and putting concepts together
You feel stuck and overwhelmed
You have dreams of being a Nurse and the NCLEX is in your way
You are following all of the "expert" advice but you are not gaining any new helpful information - hell, you may just want give up and be a CNA forever
THAT USED TO BE ME
AND IT DOESN'T HAVE TO BE YOU ANYMORE
At one time or another, every future Nurse has faced self-doubt with their ability to take and pass the NCLEX on the 1st try.
Sure, you graduated Nursing school, you're smart and gifted, but the thought of failing at this stage in your life isn't what you want or expect.
You're not alone! I was there, trying to figure out how to pass my NCLEX-RN exam with 75 questions after failing my cumulative HESI exam senior year.
See, in May 2008, I walked the stage in graduation, took all the pictures with friends and family, secured the job and only had one more step to take before my degree was conferred - take and pass the final cumulative HESI exam. This was a requirement to be approved for my ATT number and done with nursing school forever! I was a smart student, always sat in the front of class, had a good rapport with my Professors and had great grades. I was working as a Nurse tech and exposed to clinical care and was cocky with my skills.
So I didn't put in the effort to study too much, budget my time to complete practice questions, refresh my nursing notes and take the HESI seriously. And failed.
I was devastated - embarrassed - and hurt.
My job was in jeopardy, my friends had moved on to become licensed Nurses and work on their dream unit and I had to take summer classes, remediate and retake the HESI to be approved for the ATT.
Talk about PRESSURE!
I quickly got myself together, learned to study based on my learning style, budgeted time to immerse myself in practice questions, gained test taking strategies, passed the HESI and completed the NCLEX in 75 questions!
Over the years, I've taken all the tools I'd acquired, tutored student nurses who were going through a similar scenario, and created system to effectively and efficiently coach other students to confidently pass the NCLEX.
The more I tutored student the Nurses, the more I was able to improve my coaching and get to the underlying issue of why taking and passing the NCLEX seems like such a daunting task. Step-by-step, I achieved clarity on how to better explain how to study, prepare, practice and take the biggest exam in Nursing.
Over the last 3 years, I have helped over loads of student nurses get clear on who their Nursing Boards study plan and be confident in taking the NCLEX.
NCLEX VIP Prep Day will equip you with the tools, tips and techniques to increase your confidence, competency and comfort to become a licensed NURSE.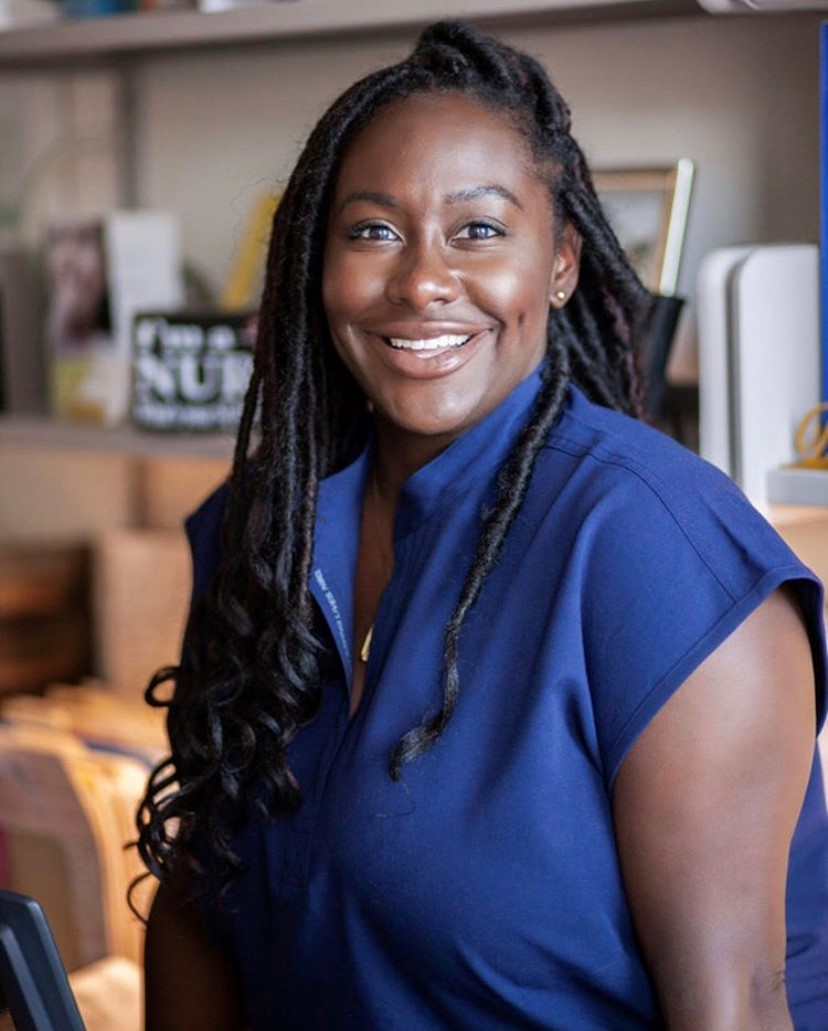 Hi, I'm Tiffany Gibson
A Clinical Nurse Educator with a primary focus on crisis prevention, Diversity & Inclusion in healthcare, reducing workplace violence, nurse aide engagement and education, as well as student and new nurse growth development.
While working as Adjunct Faculty and a Clinical Instructor fr three schools of nursing, I noticed how psychosocially unprepared students were with their readiness to take the NCLEX exam.
What I've also learned is majority of nursing schools do not provide test taking tips, tools and techniques as resources and references when taking comprehensive nursing exams.
So I decided to be the Educator who does!
Here's a little more of my professional background and credentials.
I graduated from Temple University in 2005 with a Bachelor's in Public Health, obtained my Bachelor's in Nursing from Drexel University in 2008, and graduated from Walden University with a Master's degree in Nursing Education in August 2017. In October 2019, I completed a post-masters certificate in Healthcare Diversity Leadership from Thomas Jefferson University - Institute of Emerging Health Professions.
Currently, I hold two national board certifications, one as a as a Nurse Professional Development Specialist, (ANCC) and the other with the Pediatric Nurse from the Pediatric Nursing Certification Board.
Your intake form has been submitted. Check your email for a copy of your responses. If you're accepted, you'll receive an email with a link to checkout.
Frequently Asked Questions
Can I get a refund if I'm unhappy with my purchase?
If you are unsatisfied with your VIP Day, reach out to us to see if your purchase is eligible for a refund.
As stated in Teachable's Terms of Use, Coaching IS NOT covered by Teachable's 30-day student refund policy. As such, we highly recommend that you add your own refund policy here.
How do I schedule my appointment?
Upon purchasing your session, you'll receive further instructions on how to book a time for your appointment.
Can I purchase VIP Sessions more than once?
Absolutely! If you find yourself in need of coaching more than once, simply purchase another VIP Day!